In no particular order, I would like to present a few of my favorite TV shows from that fabulous decade of big hair and shoulder pads, the 80s!

21 Jump Street

OK, I know I said...in no particular order...but I LOVED this show! What was not to like about this sexy looking cast with a great theme song! These officers were young enough to pass as students and solved crimes in many a high school. Johnny Depp, we love you!
Murder She Wrote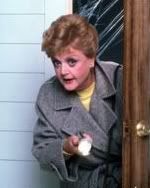 My mom and I couldn't get enough of Jessica Fletcher. You would find us in front of the TV every Sunday night tuning in to the latest mystery from Cabot Cove, Maine. Mrs. Fletcher was a former substitute English teacher turned mystery writer. Murder just seemed to follow Jessica around and she did have a flair for sleuthing. Mystery solved, case closed!

MacGyver
What would MacGyver do was the mantra of the 80s! Did you know MacGyver had a first name? There was an episode devoted to this subject as previous to this we only knew him as Mac or MacGyver. In actuality his first name was Angus. What I liked about MacGyver was he always sought non-violent ways to solve some pretty desperate situations prefering to disable or subdue. The things he could do with a paper clip and chewing gum! Oh yeah, and he was cute!

The Cosby Show

The Huxtables - what a great mom and dad, what great kids, loved the grandparents too and the assorted characters like Theo's friend "Cockroach" real name Walter! The Cosby Show was #1 in ratings for five consecutive years and according to TV Guide, singlehandedly revived the sitcom genre. My favorite Huxtable was Vanessa and I loved how she faced typical teenage problems, like was she a dweeb because she excelled in her school work or wearing makeup before her 15th birthday in violation of her parents' rules. She had a sunny personality and I also loved her cool hairstyles throughout the show!

Moonlighting


Come on David and Maddie enough with the fighting already but then again that's what kept us glued to the series. In between cases, we wondered if they would or wouldn't ever get together. The sexual tension between the two characters was pretty taut. I was also amused by the way Miss DiPesto rhymed over the phone. I bet if the show were being filmed today she would be rapping!
Another great TV theme featuring Al Jarreau



Murphy Brown
OK, this show crossed into the 90s - the series aired from 1988 to 1998. I think what the show was best remembered for was the 1992 Dan Quayle debacle when he used Murphy Brown in his presidential campaign speech espousing family values when Murphy became a single mother. I believe candidate Quayle forgot to mention she was fictional although he did call her a character. In an espisode titled You Say Potatoe, I Say Potato (love it!) the fictional characters of Murphy Brown addressed the controversy with an FYI piece dealing with the diversity of the American family.
Remington Steele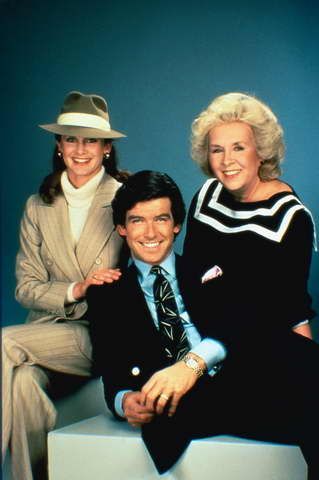 Loved Laura's spunkiness and creativity that prompted her to create Remington Steele a non-existent MALE private investigator when she realized no one hired her because she was a WOMAN. She was the brains behind the outfit but "Remington" usually got the credit and stole the show. He was also fond of spouting old movie trivia if you remember. Mildred joined the firm as their office assistant who pretty much got caught up in the investigations as well.
Star Trek - The Next Generation
Prior to Next Generation the tagline was Where No Man Has Gone Before. I'm glad they changed it not just for womankind but for all intergallactic species! I love Star Trek in all its incarnations. Next Generation is one of my favorites.
But enough about what I liked, what about you? There were lots of other shows out there like Falcon Crest, Dynasty, Night Court, Perfect Strangers, Square Pegs and Bosom Buddies - Tom Hanks and Sarah Jessica Parker had to start somewhere you know!